We are constantly asked about some of our favorite Traverse City wedding venues, or in Northern Michigan, so we decided to compile a list for anyone curious, getting married, or planning their future wedding. Many of the spaces are at barns or vineyards, because in Northern Michigan, wine and food are pretty much what we specialize in. A lot of thought for our favorites goes into, aesthetic, views, and lighting. As – wedding photographers – with a more natural, organic style, we connect with many of the natural environments surrounding the spaces. We hope you find the perfect space for your wedding that feels organically you. There are links to all of the sites attached, but feel free to let us know if you have any questions.
Enjoy!
Aurora Cellars Terrace
Aurora Cellars has two beautiful venues, first is the Terrace. The Terrace has a lovely spanish countryside vibe with a pretty, west-facing ceremony spot and a beautiful setting for an outdoor tented reception. Not only is it close to the vineyard, but the sweeping views of the fields from the tent lead for some nice golden hour portraits.
---
Aurora Cellars Farmhouse
Aurora Cellars' second location, the farmhouse, is Northern Michigan perfection. The farmhouse itself is so pretty, and a wonderful spot to get ready with your crew. The ceremony spot, under the incredible willow tree is just unbelievable. It is also west facing, so you get the beautiful light through the willow, which also serves the purpose of shading your guests. Your tented reception is also close to the vineyard, which makes for a perfect setting to take a break from your party and take it all in as the sun sets.
---
Blue Bridge
Blue Bridge Event Center (formerly frog pond village), has everything. Beautiful gardens, rustic charm interior and exteriors, and a delightful, super helpful staff. What we really appreciate about this venue is the superb outdoor and indoor use of lighting. It gives a truly romantic vibe to your reception that is oh so cozy, even into the later part of the season.
---
Brengman Brothers Winery
Brengman Brothers Winery is a classic for a real Northern Michigan wedding. Getting married among the vines is just as beautiful as you'd imagine. Top that beauty off with a really perfect rustic-modern winery with beautiful windows, and up to date facilities and even a bonfire for your guests to enjoy, it's a winner. It's also quite close to Traverse City, which makes it easy for your guests to find lodging.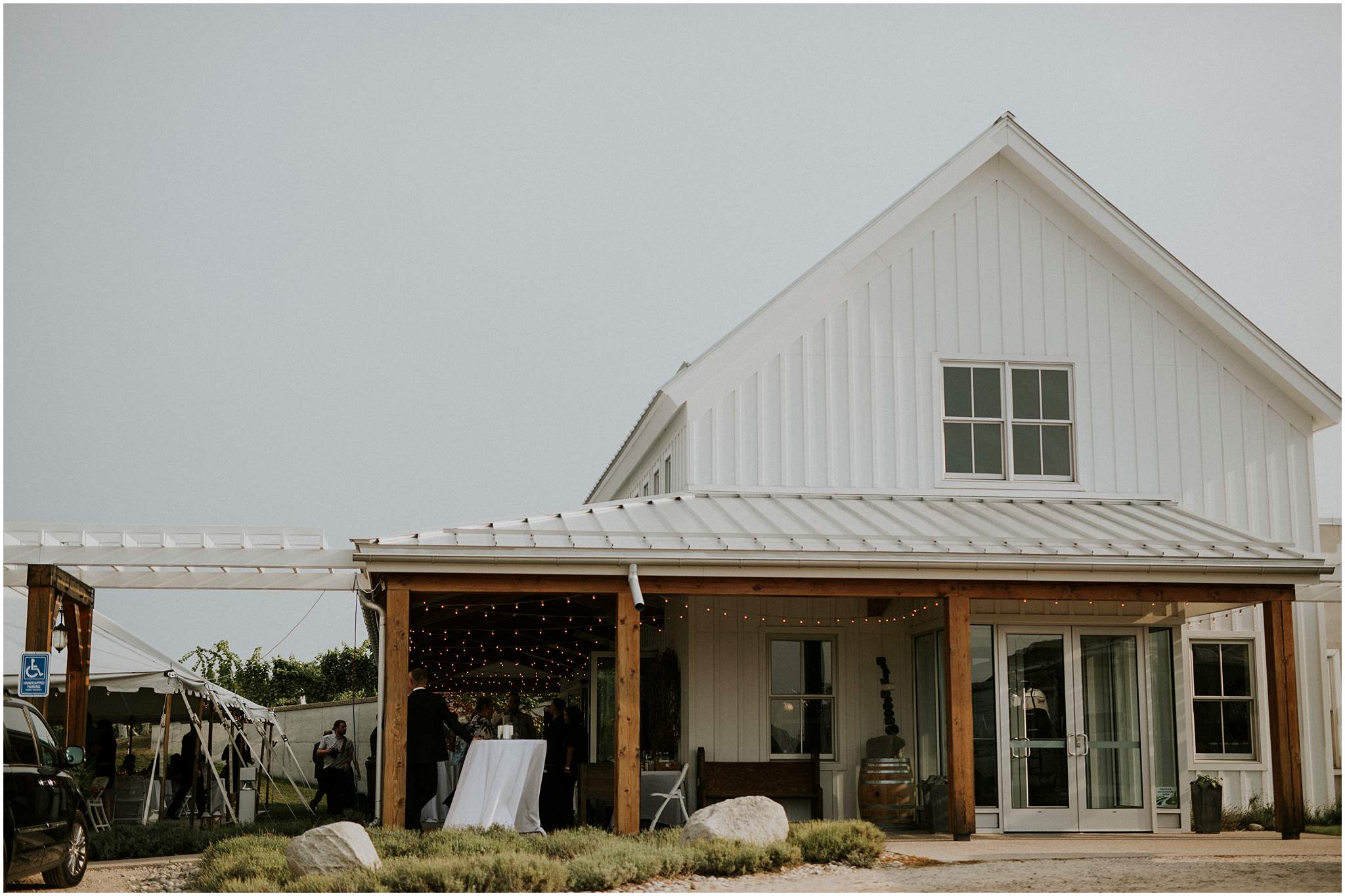 ---
Cherry Basket Farms
Cherry Basket Farms has so many positives. The location itself, deep in the heart of Leelanau County, a quaint farmhouse and outbuildings, modern-rustic barn, and beautiful surrounding fields. The event space is also a catering company with a delicious farm-to-table menu and a great staff. With Grand Traverse Bay a few minute drive down the road, we think this venue is an Northern Michigan Wedding destination for spring, summer, or fall.
---
Ciccone Vineyard and Winery
Ciccone Vineyard and Winery has not only a beautiful landscape with rolling vineyards and fields, but we think it has one of the best water views in Leelanau County. You won't want to leave to do portraits, as the views and beauty are right there before you.
---
Fountain Point Resort
Fountain Point Resort is what we would describe as Accidental Wes Anderson come to life. It has an upscale camp feel with a 1950s throwback vibe and we totally adore it. Get married under a beautiful tree, on the steps of the lodge, or with a Lake Leelanau water backdrop.
---
Garvey Barn
Garvey Barn is a fantastic updated event barn affiliated with the Grand Traverse Resort, with one of the nicest decks ever. We love how the expansive deck overlooks fields of horses and the natural beauty of Northern Michigan.
---
Historic Barns Park
The Cathedral Barn at Historic Barns Park is not only beautiful and quite large for a good sized party, but it is super close to downtown Traverse City. The Village of Grand Traverse Commons is minutes away, so literally tons of portrait opportunities, plus a fun place for all your wedding guests to explore. (It doesn't hurt that we live 5 minutes away in downtown tc 😜 we are partial to the area).
---
The Peninsula Room
The Peninsula Room located next to The Jolly Pumpkin and Mission table on Old Mission peninsula combines Victorian Architecture with the Natural Beauty of Northern Michigan. To channel SNL's Stefon, It has it all, vines, beer, lovely interior, a dynamite ceremony spot overlooking the water, and some of the most beautiful sunsets we have ever seen. Bonus points because there is a ghost living in the main house, so you may have one extra wedding guest. 😜
---
Shanahan's Barn
Shanahan's Barn Can we just say, gorgeous slats lighting about a hundred times? As a photographer, looking for light is what we do, and this barn does not disappoint. The barn itself is enormous, ready to house a large wedding guest list and is in the heart of the Charlevoix area in Northern Michigan. There's ample parking space, a huge dance floor, and lawn game space for days.
---
Starry Night Barn
Starry Night Barn is a big time Northern Michigan venue favorite for us at Allen-Kent Photography from the very beginning. The venue itself is breathtaking and well cared for, including the lovely cabins that you and your wedding party can get ready in. Bonfires and lawn games, fields of cherry trees, quaint buildings and just an excellent wedding compound with the best staff and owners is a major plus of this lovely Leenlanau venue. Also, it's dog friendly!
---
Willowbrook Mill
Willowbrook Mill is Northport's wedding venue gem. It is a literal mill, with a wheel of water down below, and upstairs a modern-vintage dream. So close to Lake Michigan and downtown Northport, we can only describe this place as sweet and magical. Perfect for a small to medium sized amount of wedding guests.
---
While picking your wedding venue, you should find one that speaks to you. See if the vibe fits your tribe. Reach out and make sure you visit a few of them, also bonus, you get to hang out in northern Michigan. We have been to and photographed weddings at all of these locations, so we are an open book if you'd like to pick our brain!
-Brooke and Michael